I belong to a parenting website and have made great friends! One of the moms has an online store that is just great. She has the CUTEST stuff for little ones. I am planning on finding a big sister t shirt for ellie there and also maybe a birthday outfit! Her cloth diapers are also the cutest if I could just talk Jess into letting me use them.
Click on this to check out her site and share with other mommies!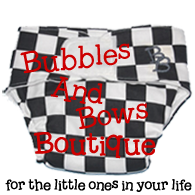 I also have the button on my blog page all the time!